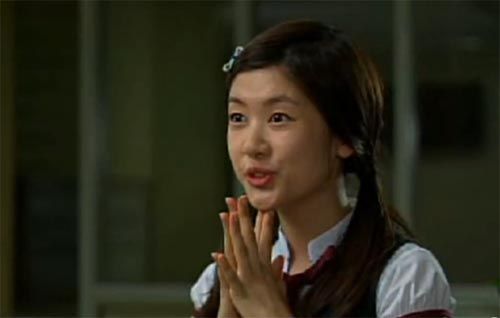 Source: Dramabeans
Just yesterday we had the new teaser for Playful Kiss, and now there's a longer cut available (thanks to everyone who sent it to me!). I don't actually think it's an official trailer — it feels kind of rough — but it gives us an extended look at the drama.
It seems like Boys Before Flowers has been the main point of comparison for this show, but I'm getting a much more Goong-like vibe, which in my mind is a very good thing. It's no surprise, either, since PD Hwang In-roi directed Goong; one of my favorite aspects of that drama was its time spent in the school, which seems to be a key point of this story as well.
Furthermore, lead actress Jung So-min has already been called a "Little Yoon Eun-hye" for her facial resemblance to her (if you ignore her eyes, in some angles they look eerily similar), and I anticipate that this role will solidify that image — not only does she have the physical similarity, but similar character mannerisms of Chae-kyung, the role that made Yoon a superstar.
(I still think Kim Hyun-joong looks a bit old for her, but I'm hoping for solid chemistry.)